JOSEPH S. LENTO
17 NORTHFIELD AVENUE, DOBBS FERRY, NY 10522
914-564-1203 | jlento5117@aol.com, jslmaestro@gmail.com

In 2014, Mr. Lento was proclaimed a National Teacher of Arts and Humanities by President Barack H. Obama.


In 1999 Mr. Lento was named by the NYC Department of Education as its Bronx County High Schools Teacher of the Year.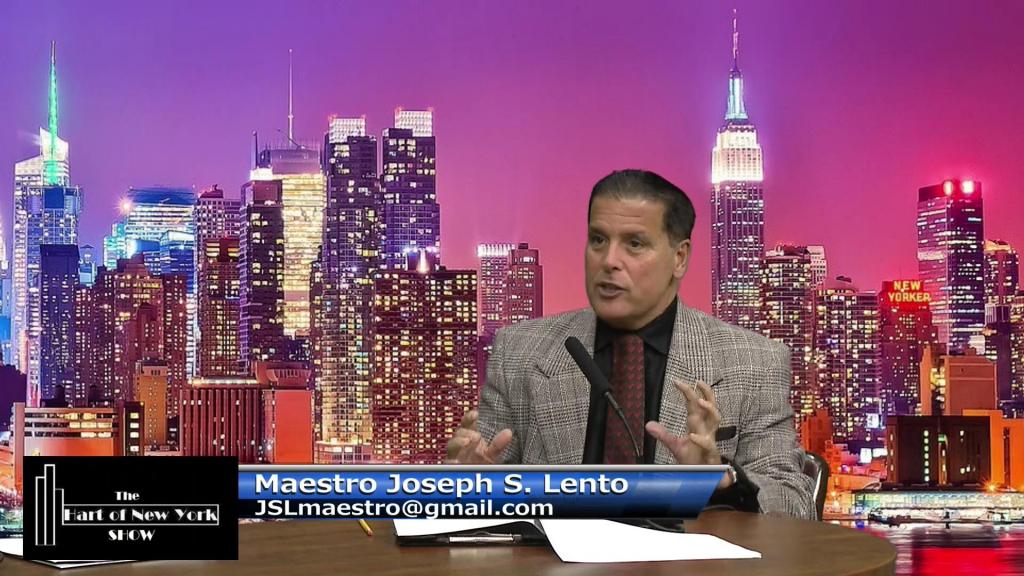 PROFESSIONAL WEBSITES
joeyjamesmusic.com
maestromusicunlimited.com


PROFFESSIONAL SUMMARY
Since 1984, I have successfully used my experience and training in Music, Administration, Business and Education to create, design, implement, teach and supervise a vast array of programs i.e. teacher training; student leadership; educational research; professional development; student assessment in the general and special education populations in integrated and least restrictive environments; faculty recruitment, hiring and retention; student recruitment and retention; curriculum development; department budgeting i.e. positions, supplies and equipment; fundraising; grant writing; community outreach/public/media relations; teacher assessments and evaluations; curriculum design and development.


PROFESSIONAL PREPAREDNESS
· Expertise in The Socratic Method
· Evaluative and Long Term Planning
· Interpersonal Skills
· NYS Certification Orchestral Music
· NYS Certification School District Administration
· Organizational Management
· Diverse Student and Teacher Strategies
· Strong Collaborative Skills
· Public/Media Relations
· Staffing/Personnel
· Resource Allocation
· Situation Analysis and Resolution
· Resource Analysis


WORK HISTORY
NYC Department of Education and the Yonkers Public School System
Educator/Administrator October 1984 - Current
· Teacher of Orchestral and Vocal Music all Grade Levels
· Teacher of Music Theory and History
· Teacher of ESL, Creative Writing, Physical Education and Forensic Science
· Special Educator, Global Studies, Vocal and Instrumental Music
· Performing and Fine Arts Department Coordinator
· Professional Development Facilitator
· Curriculum Design Specialist
· Assistant Principal Secondary Level: Music, Art, Dance, Drama, General and Special Education
· Teacher Mentor
· Student Leadership
· Using Music, I Implemented reading and writing workshops, as well as community outreach programs to support literacy and nurture partnerships within the community.


EDUCATION
· Professional Performance Studies Orchestral Music Aaron Copland Conservatory, Queens
NY 1980-1983

· Advanced Bachelor of Arts, Music Education and Performance, Professional Musicians Education Program, Herbert H. Lehman College Bronx NY 1983-1985

· Special Education Studies, College of New Rochelle, New Rochelle, NY 1986-1987

· School Leadership Program, Manhattan College, Riverdale, NY 1991-1993
· Advanced Master of Science, Education and School District Administration -Iona College New Rochelle, NY 1998- 1999
AWARDS AND RECOGNITION
· 2019 Founded the We Belong Performing Virtual Arts Hall of Fame
· 2018 and 2019 published articles for DisruptEd/TV Dr. Richard Allen
· In May of 2018 and April of 2019 published articles on the effects of Music on students on the Autism Spectrum and general population at large for the national organization Differentbrains.org (Dr. Harolf Reitman)
· October 2018 named Staff Education Writer for the Mount Vernon Post; Ms. Janelle Allbritton, Chief Editor and owner.
· June 2017 letter of recognition from United States Senator Kirsten Gillibrand
· October 2016 letter of recognition from President George Walker Bush
· July 2016, 2017 and 2018 was a guest education host on the Manhattan Cable show The Hart of NY
· July 2016 letter of recognition from President George Herbert Walker Bush
· May 2016 letter of commendation from United States Senator Charles Schumer
· 2015 recipient of a Mayoral Proclamation, Yonkers NY
· 2015 Guest Speaker, United Nations World Youth Assembly
· 2014 proclaimed a National Teacher of Arts and Humanities by President Barack Obama
· 2014 Recognized by official letter as a 'Maestro' by United States Senator Kirsten Gillibrand
· 2014 Authored an Article for the American Federation of Teachers Internet Magazine on the Importance of an Arts Education.
· 2012 and 2013 Recognized by Westchester LoHud Newspaper and the Mount Vernon Express
· 2008-2009 My Student Performance Ensembles Raised over $10,000 for Early Literacy
· 2007 My Students Performed with The United Nations Youth Symphony
· 2006- 2010 Junior National Leadership Conference Mentor
· 2006 Director, Yonkers All City Elementary/Middle School Band
· 2005 Designed the Music Curriculum for newly formed K-8 schools, Yonkers NY.
· 2004 Developed the Music program curriculum in accordance with the International Baccalaureate Center admittance compliance requirements for the Marie Siragusa School Yonkers NY
· 2003 Brass Coach, Westchester County All State Band
· 2002 Best Marching Band Award, Yonkers St. Patrick's Day Parade
· 1999 Named NYC Bronx County High Schools Teacher of The Year
· 1999 Research on the effects of Instrumental Music on students was locally published, cited and televised
· 1999 Secured a $1,100,000 grant, Annenberg Foundation Project Arts Initiative
· 1998 Named Herbert H. Lehman High School Teacher of The Year
· 1996 Subject of an Education Article, New York Magazine Article
· 1986 Co-founded the first Special Needs Instrumental Music performance group (Class Act) in the history of NYC Public Schools
· 1985 Founded and Directed the Lehman High School Alumni Band
· 1981 Featured Soloist under the direction of Maestro Joanne Falletta in a concert for the great American Composer, Aaron Copland
· 1979-1980 Performed on the Trumpet with the New York Philharmonic as a member of The New York City All City High School Orchestra